1
公司介绍:
The Trade Desk Inc is an American online advertising marketplace, based in Ventura, California. The company was co-founded in 2009 by Jeff Green, the company's chairman and CEO, and Dave Pickles, the chief technology officer. In 2017, revenue rose 52% to $308 million. In September 2018, the firm had a market cap of $6.2 billion. About 150 employees work in the headquarter city of Ventura, and 1,200 people in 23 offices worldwide.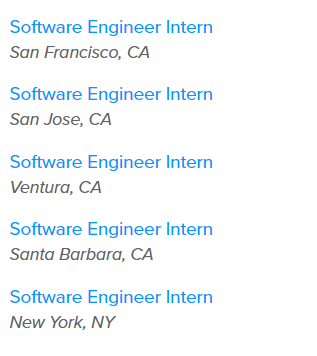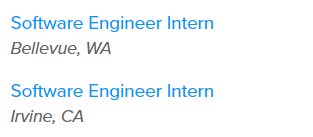 申请链接:
2
公司介绍:
Nvidia Corporation, more commonly referred to as Nvidia, is an American technology company incorporated in Delaware and based in Santa Clara, California. It designs graphics processing units (GPUs) for the gaming and professional markets, as well as system on a chip units (SoCs) for the mobile computing and automotive market.




申请链接:
https://nvidia.wd5.myworkdayjobs.com/NVIDIAExternalCareerSite/5/refreshFacet/318c8bb6f553100021d223d9780d30be?source=jobboardlinkedin
3
公司介绍:
Uber Technologies, Inc. is an American multinational ridesharing company offering services that include peer-to-peer ridesharing, ride service hailing, food delivery, and a bicycle-sharing system. The company is based in San Francisco and has operations in over 785 metropolitan areas worldwide. Its platforms can be accessed via its websites and mobile apps. As of 2019, Uber is estimated to have 110 million worldwide users a 69% market share in the United States for passenger transport, and a 25% market share for food delivery.
申请链接:
https://www.uber.com/us/en/careers/list/?department=University
4
公司介绍:
Audible is a seller and producer of spoken audio entertainment, information, and educational programming on the Internet. Audible is the United States' largest audio book producer and retailer. On January 31, 2008, Amazon.com announced it would buy Audible for about $300 million.
申请链接:
5
公司介绍:
Genesys is a company that sells customer experience and call center technology to mid-sized and large businesses. It sells both cloud-based and on-premises software. Genesys is headquartered in Daly City, California, and has offices in Canada, Latin America, Europe, the Middle East, Africa, Asia, and Australia. The company was founded in 1990 and was most recently acquired by PermiraFunds and Technology Crossover Ventures in February 2012.
申请链接:
https://genesys.referrals.selectminds.com/page/intern-293
6
公司介绍:
AppFolio is a company that was founded in 2006 and offers software-as-a-service (SaaS) applications for vertical markets. AppFolio initially focused on Property Management software. With the acquisition of MyCase in 2012, it expanded into the Law Practice Management industry. The company's headquarters is in Goleta, California, United States. It also has offices in San Diego, California; and Dallas, Texas.
申请链接:
7
公司介绍:
Founded in 2009, Pocket Gems is a leading developer of original mobile games and interactive entertainment. Their products have been downloaded over 325 million times by players around the world. Pocket Gems has grown to over 250 people in San Francisco. With $155 million in backing from Sequoia Capital and Tencent, they're constantly breaking new ground with graphically rich mobile games, fun new genres of mobile entertainment, and innovative technologies.
申请链接:
https://www.linkedin.com/jobs/view/1505152382/?refId=26e797eb-2786-48d2-ad99-4ea2ac27f6b2&trk=flagship3_search_srp_jobs
8
公司介绍:
Asurion, LLC is a privately held company based in Nashville, Tennessee that provides insurance for smartphones, tablets, consumer electronics, appliances, satellite receivers and jewelry. In 2014, the company operated in 14 countries and had 49 offices with 17,000 employees serving 280 million consumers.
申请链接:
9
公司介绍:
Autodesk, Inc. is an American multinational software corporation that makes software services for the architecture, engineering, construction, manufacturing, media, education, and entertainment industries.
申请链接:
10
公司介绍:
Amazon.com, Inc. is an American multinational technology company based in Seattle, Washington, that focuses on e-commerce, cloud computing, digital streaming, and artificial intelligence. It is considered one of the Big Four technology companies along with Google, Apple, and Facebook.
申请链接: